Monica Smiley
Board Chairman
Monica Smiley comes to The Institute of Consumer Money Management Board with a strong background in business and journalism. She is the editor and publisher of Enterprising Women, a magazine published for women business owners which reaches one million women entrepreneurs around the world. She is a highly regarded thought leader on the topic of women's entrepreneurship.
Read More About Ms. Smiley
Ms. Smiley serves on the National Association of Women Business Owners National Advisory Council, is a member of the Women Presidents' Organization, and is an Institute of Economic Empowerment for Women (IEEW) board member. She has been a United States delegate to the Global Summit of Women seven times, traveling the globe for the gathering of women entrepreneurs from around the world. For the past seven years, Ms. Smiley has mentored women through the IEEW Peace through Business program, hosting women business owners from Rwanda and Afghanistan in her home. In 2011, she founded the Enterprising Women Foundation to benefit the growth of women's entrepreneurship around the world.
Ms. Smiley earned her journalism degree from Bradley University in Peoria, Illinois. She now lives with her husband in Cary, NC and is the proud mom of two adult sons, three step-children, and grandmother of five grandchildren.
Dr. Diane Chen
Board Member
Dr. Diane Chen is the Founder and Executive Director of Institute of Consumer Money Management (ICMM), a nonprofit research-centered organization. ICMM's mission is to conduct and provide funding for research and studies that promote positive spending behaviors and consumer asset building with the focus on improving low and moderate income population's financial well being.  Diane is the founder and served as Chief Executive Officer of Consumer Education Services Inc (CESI), a 501C3 credit counseling agency from 1998 to 2017. In the last two decades, she has lead CESI to become one of the top credit counseling agencies in US. Prior to founding CESI in 1998, Dr. Chen was the President of New China Development Corporation for six years. In that capacity, she helped many North Carolina businesses, government agencies, and educational institutions establish partnerships with China, and worked as a consultant to facilitate the trade and business missions between the US and China.
Read More About Dr. Chen
In August of 2010, Diane was awarded the prestigious Triangle Business Journal Women In Business award as an Entrepreneur. She was also a recipient of the 2010 Business Leaders Women Extraordinaire award. She currently holds positions as the member of Community Development Steering Committee of BB&T Bank, the Advisory Board Members of National Foundation of Credit Counseling(NFCC), First Citizens Bank, and Enterprising Women Magazine. In addition, she is on the board of UUFR Foundation at the Unitarian Universalist Fellowship of Raleigh. Diane has one adult son – he is an Associate US Attorney at Southern District US Attorney's Office of New York.
Diane earned her master and doctorate degrees in adult education from North Carolina State University.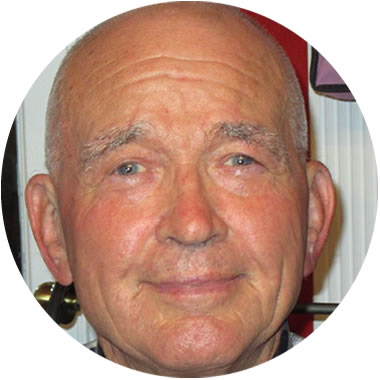 Dr. Graham Swift
Board Member
Dr. Graham Swift comes to The Institute of Consumer Money Management with more than 50 years of a successful career in science and research. Born in the UK, Dr. Swift was an under-graduate of London University in Chemistry. He went on to earn his Ph.D. in Organic Chemistry, also at London University. Dr. Swift's Post-doctoral Fellowship was at Temple University Hospital in Philadelphia.
Since 1966, Dr. Swift has held positions in both the UK and the US with a variety of prestigious organizations including Imperial Chemical industries, Rohm and Haas Company, and Folia. He is the president and founder of GS Polymer Consultants.
Read More About Dr. Swift
Dr. Swift's work has appeared in more than 150 publications and he is the holder of 150 patents. He is a member of the American chemical Society, The ASTM; Biodegradable Plastics Committee and has served on the editorial board for Biomacromolecules, Journal of Polymers and the Environment.
Dr. Swift has been playing an active role in a number of the civic organizations and the community where he lives. He is the chair of the Environmental Committee at The Chapel of the Cross, Chapel Hill, North Carolina, and a member on the Episcopal Diocesan Committee for the Environment for Eastern NC. He is also an environmental committee member in Chatham County, North Carolina.
Dr. Swift is a member with ASTM Biodegradable Plastic Committee and has worked on several task groups developing new standards.
Dr. Swift has been married to his wife, Shirley for over 50 years and raised two adult sons who have found success as a surgeon and a computer scientist.
Kim Allman
Board Member
Kim Allman is Director of Community Development Banking at Capital One.  Her responsibilities include managing Capital One's credit counseling grant program and overseeing grants and programming for national asset building nonprofits. She is responsible for creating and implementing strategy around financial access, credit building, credit counseling and asset building.

Read More About Ms. Allman
Prior to working at Capital One, Kim served as the Deputy Director at the New York Mortgage Coalition, a non-profit focused on creating and maintaining affordable homeownership for New Yorkers. In that role, Kim oversaw counseling and education programs, counselor training, as well as legal and compliance issues. Kim provided technical assistance to foreclosure prevention counseling agencies through the Center for NYC Neighborhoods, the nation's largest foreclosure prevention intermediary. She also served as the Chair of the New York State Coalition for Excellence in Homeownership Education.
Kim started her career as a securities lawyer, advising clients on a variety of investment products including hedge funds, private equity funds, mutual funds and real estate investment trusts. She received her bachelor's degree in psychology and political science from Duke University and her JD from Cornell University Law School. She also has a certificate in financial planning from Boston University.  Kim is a member of the National Foundation for Credit Counseling's Advisory Council and the Steering Committee of the Asset Funders Network.